Kayaking Tours...
Explore Kailua Beach & Kaneohe Bay
Kayaking tours and Rentals in Kailua and Kaneohe Bays!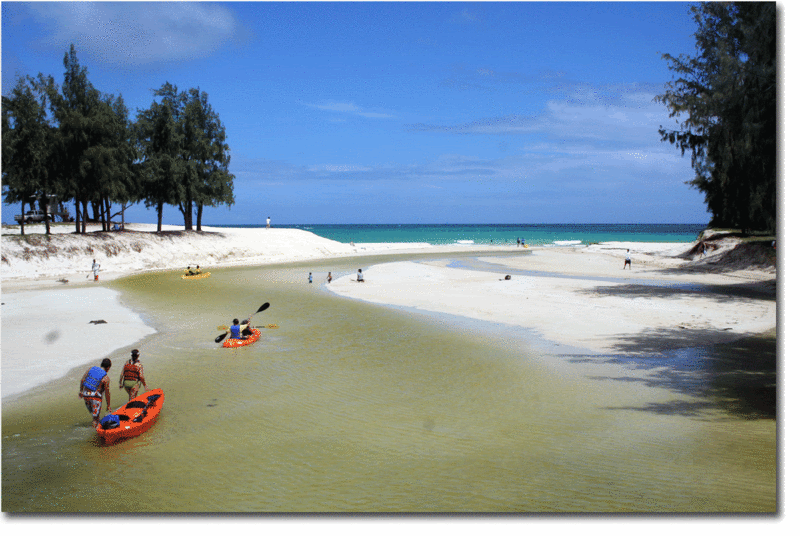 A Kailua tour starts from the Kaelepuu Stream mouth leading into Kailua Bay.

Kayaking tours are the best way to discover Kailua and the lesser known but equally exciting Kaneohe Bay. Our favorite for tours or to simply rent equipment is Endless Adventures Hawaii, a small outfitter run by Kanai Weatherwax, lifelong resident of Kailua.
Like many of Hawaii's youth, Kanai grew up in and around the ocean taking advantage of all the activities Hawaii's windward coast had to offer – kayaking to the Mokulua Islands and Flat Island (Popoia) off of Lanikai Beach in Kailua… kayaking in Kaneohe Bay and exploring Chinaman's Hat (Mokolii)… windsurfing… kitesurfing… and later when the sport exploded, stand-up paddling, now simply referred to as SUP!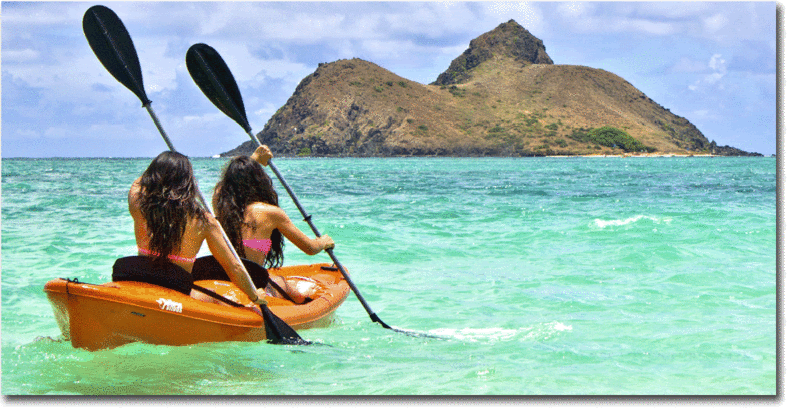 By far the most popular kayaking tour is the relatively short paddle through sparkling waters to the Moku Luas (twin islands.)

Endless Adventures Hawaii allows Kanai, local waterman and certified Hawaii lifeguard and graduate in Hawaiian Studies, more than just the chance to share these popular ocean pastimes, but a lot of the local perspectives, insider information, enthusiasm, and respect that comes with sharing the place you literally grew up in! And, like Kanai, the entire staff of Endless Adventures Hawaii are kamaaina (island old-timers whatever their ages might be) sharing the same familiarity and ocean experience that only time and exposure can provide.
Kayaking tours in Kaneohe Bay are a lesser-known experience as compared to the Kailua kayaking tours or SUP tours that have become nothing short of a tourist attraction. And while offering their own personalized Kailua kayak and SUP tours, trips to Kaneohe Bay's Mokolii, aka Chinaman's Hat, are a favorite offered by the Endless Adventures Hawaii crew.



Kaneohe Bay's Mokoli'i (Chinaman's Hat) is a lesser visited but equally impressive kayaking tour destination!

Offering the biggest draws of Oahu's windward coast, Endless Adventures Hawaii specializes in kayak tours in Oahu's Kailua Beach area which includes the world famous Lanikai Beach and Mokulua Islands and Flat Island. Here you'll launch off of sandy beaches or a stream-like mouth that connects the Enchanted Lakes body of water to the ocean. You'll immediately notice the crystal clear water and coral formations that literally dot the ocean bottom en route to the islands you'll soon be exploring.



The popularity of standup paddling (SUP) has created a new venue for exploring the coastline.


Besides kayaking tours and SUP exploring, Kailua also is one of the most popular spots for windsurfing and kitesurfing, both of which Endless Adventures Hawaii provides lessons and, for those experienced practitioners, equipment rentals.
In the Kaneohe Bay experience via kayaking or SUP, you'll paddle through an entirely different type of ocean environment, the state's largest estuarine. Here, where mountain streams mix with the relatively closed ocean environment formed by the indented coast is created a marine environment like no other. Mud flats give way to crystal clear shallows comprised of sand and coral leading to ledges that drop off into deeper water. These are the grounds frequented by Hawaii bonefishing (o'io) enthusiasts.
In the middle of the bay is the famous Kaneohe Sandbar, a sandy beach during low tide and completely submerged during the higher tides. Marking the northwest end of Kaneohe Bay is Mokolii, or Chinaman's Hat, a small island marked by the circular base and sharply rising peak that inspired its name.



Regardless of how you get out on the water, it's all fun and it's all up to you.

Oahu's windward coast offers some of the best opportunities to enjoy stand up paddling, kayaking, windsurfing, kitesurfing! Hook up with Endless Adventures Hawaii and make sure you get the most out of these exciting activities.
Schedule tours, lessons, or equipment rentals with Endless Adventures Hawaii by first submitting your name and e-mail below (so we know you're a real person) then you'll be able to get the details for each activity and reserve any you might be interested in!




Return to top of Kayaking Tours